Hostel Tinktinkie
Santa Rosa de Calamuchita - Cordoba - Argentina
Hostel Tinktinkie in Santa Rosa de Calamuchita offer quality accommodation for families,couples, backpackers and young people.
If you are travelling to Argentina and want to explore the beauty of the Cordoba Province then Hostel Tinktinkie in Santa Rosa de Calamuchita is for you. We are 90km from Cordoba city in the beautiful Calamuchita Valley.
We offer quality accommodation to families, couples, backpackers and solo travelers. Hostel Tinktinkie has Private Rooms and Dormis with individual entrances and private bathrooms. The kitchen is fully equipped and with TV-DVD, free Internet and Wi-Fi.
We are 300m from the Santa Rosa river in a tranquil environment close to nature where you can cycle, hike, swim and do horse riding. The owners of Hostel Tinktinkie cook traditional Russian and South African food on request.
We invite you for a different hostel experience when in Argentina.
About the Owners
Hostel Tinktinkie is managed by it's owners, Andrey y Nelieta. The Hostel was built in 2008 and we officially opened in March 2009. We both love travelling and have been fortunate to visit many countries around the world. If you are planning to travel to Argentina and want a different hostel experience, then we invite you to visit us in the beautiful Calamuchita Valley. We cook traditional Russian and South African food on request.
Events
OKTOBERFEST 6 to 16 Oktober!!!!! WE ONLY HAVE A COUPLE OF PLACES LEFT!!! 2 BEDS IN THE 8 BEDROOM DORM!!!
Calamuchita Valley
There are a lot of places to visit in our valley. The Calamuchita Valley is ideal for outdoor activities including hiking, fishing, horse riding, windsurfing, diving, zip-lining, walking and cycling. If you want to escape from the usy city for a couple of days, then the Calamuchita Valley is the place to explore.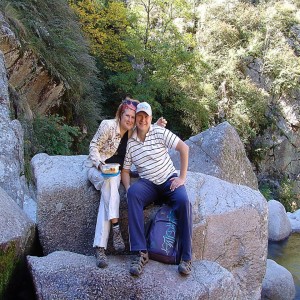 What is a Dorm?
Many people often ask the question: "What is a dorm?" A dorm is a shared room. When you make a reservation in a dorm, you book a bed and not the whole room. If you want more privacy then our private rooms are ideal. A dorm is ideal for travellers who want to meet other like-minded people. It is also cheaper to stay in a dorm because you only pay for the bed and ot for the whole room. Our dorm has places for 6 people with a private bathroom and individual entrance.
Hostel Tinktinkie has available two private rooms and a dorm for 6 people.